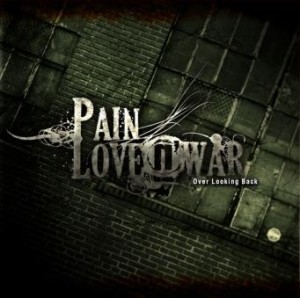 Pain Love n' War will release its debut album, Over Looking Back, on Saturday, June 6th, 2015. This release will be available via iTunes, Amazon, CD Baby and other music websites worldwide. An album release party set for the same date will take place at The Cork: 5043 Van Nuys Blvd, Sherman Oaks, CA 91403 at 8:15PM.
Pain Love n' War was formed in 2012 by vocalist Rob Sandoval and guitarist Hoyt Binder.  Rob resides in San Diego where he's better known as the front man for future pop band Electrovot. He brings a wealth of old school and modern influences to the band ranging from grunge to electronica. Hoyt resides in Orange County where he's known as a jazz-rock artist and member of progressive rock band Primitive Overflow.  He brings a heavy edged backbone to the band that harkens to the glory days of guitar-driven rock.
Together, they create modern rock that seeks to break new ground while maintaining a healthy respect for the legacy of rock influences that fuel their passion. Their debut album, Over Looking Back, consists of 12 songs that loosely tell the turmoil of finding, losing and regaining love. Rob and Hoyt share all songwriting duties and enlisted OC drummer extraordinaire Bobby Albright as well as electronica artists Andrew Casciato and Chris Reynolds to round out their self-produced debut.
Whether it's heavy riffs with a dusting of industrial electronica or crooning ballads, Pain Love n' War speaks to fellow sonic freaks that share a taste for their religion.
For more info visit www.facebook.com/painlovenwar